Guarantee Timelines
We Design, Build, & Remodel Bathrooms
Bathroom remodeling is one of the best ways to improve the look, feel and value of your home. Our experienced team will create a beautiful bathroom that makes use of the best parts available, ensuring a bathroom that will be used and enjoyed for years to come.
At J&J we have the experience to get the job done right, the creativity to help you with the design, and the professionalism to give you and your home the respect it deserves. We are dedicating to working with you to come up with the perfect design for your bathroom so that you are 100% satisfied with the end result. Whether you want a walk-in shower with a marble bench, a corner jacuzzi tub, elaborate tile designs, or pretty much anything else you can think of, J&J will get the job done, and more importantly, get the job done right.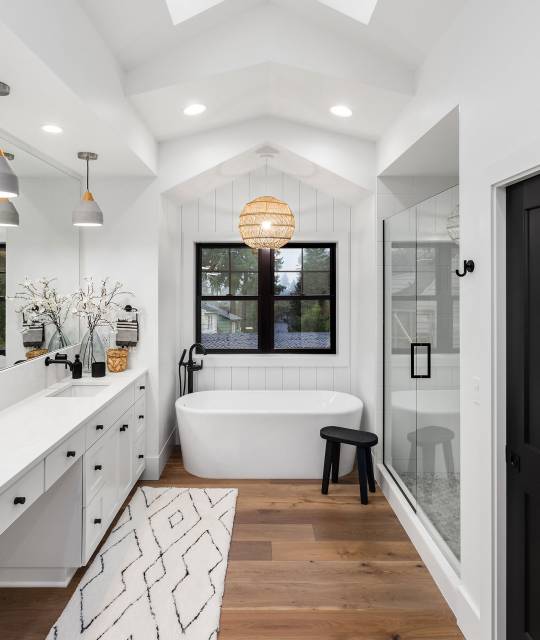 Our experienced team will create a beautiful custom bathroom that fits your needs and meets your budget. We do this by following a proven 6-step approach we have mastered over the last 20+ years.
Bathroom Remodeling Experts
Why choose J&J of South Jersey?
Working with residential clients, architects, and designers, we strive to consistently offer best-in-class services while delivering unique projects on time and on budget. It's important to have a team you can trust. We are extremely proud of the work we do, but it's not just that we get the job done right, it's that we complete the job with 100% customer satisfaction. Working primarily in the Southern New Jersey area, we specialize in home renovations. Learn more about us and you'll know why a renovation by J&J is the right one for you.
At J&J of South Jersey, they know how important deadlines are to their clients. By utilizing their professional expertise, intricate attention to detail and excellent project management skills, they are able to guarantee timelines that their clients can count on.
We begin with a free, no obligation in-home consultation followed by an in-office meeting to review the project. The review process with the selection of materials and the project agreement are the last stages of our approach before actual construction begins. Once the project is complete, a quality check and final walkthrough are performed with each client.
modern interiors
Impeccable Design, Build & Remodeling.